Well it's not officially Summer yet, but it might as well be with this heat! Thankfully it's supposed to go back to partly cloudy days in the 70s and heat up again towards the weekend.
Here are just some of the very many awesome events happening around LA! This week's list as always is a work-in-progress (still many more events I have to post as well as new ones I learn about as the week goes along!). So keep checking back! Do you have an LA hidden treasure or great cause people should know about? Let me know!
Have a great week, Angelenos…here's a fun fact: May 14th is National Dance like a Chicken Day and Underground America Day so here's a song to celebrate!

_____________________________________
MON 5/13
Stained: An Intimate Portrayal of State Violence @ UCLA – Free, All Ages
Stained is a performance art piece directed and produced by Patrisse Cullors. This piece asks us to look at the ways in which incarceration and state violence affect not only those inside the jails, but those of us on the outside who in some way must acknowledge or dissociate from the impacts of state violence. Stained is both intimate and unwavering in its confrontation with the trauma of state violence. Rooted in the conditions of Los Angeles Jails, this performance asks us to place ourselves in on ongoing narrative that has been made invisible. Stained does not acknowledge an audience but rather engages us as participants, as we are all in relationship to a state violence. It is a journey that raises a very simple, but potentially elusive question: What does your freedom look like?

Before Midnight screening @ USC – Free w RSVP, All Ages
In Before Midnight, we meet Celine and Jesse 9 years on. Almost 2 decades have passed since that first meeting on a train bound for Vienna, and we now find them in their early 40's in Greece. Before the clock strikes midnight, we will again become part of their story.
http://www.youtube.com/watch?v=NRVLVPWzeek

Sun Rai @ Harvard & Stone, Little Armenia – Free, 21+
H&S fave Sun Rai Thistlewaithe returns to the stage this Monday. DJ Sean Patrick spins blues, oldies & rock'n'roll and Pour Vous' Devin Espinosa brings his best to the R&D bar.
http://harvardandstone.com/event/sun-rai/
http://youtu.be/s-ERpjmCkbg
Yoga for a Cause @ Lululemon, Santa Monica – $15, All Ages
Benefiting Education Through Music-Los Angeles whose mission is to promote and provide music instruction in disadvantaged schools in order to enhance students' academic performance and creative and general development. ETM-LA currently serves approximately 5,500 Los Angeles children with yearlong weekly music instruction. Founded in 2006, ETM-LA, Inc. is an indepedent 501(c)3 non-profit based on the ETM model with over 20 years of success in New York City.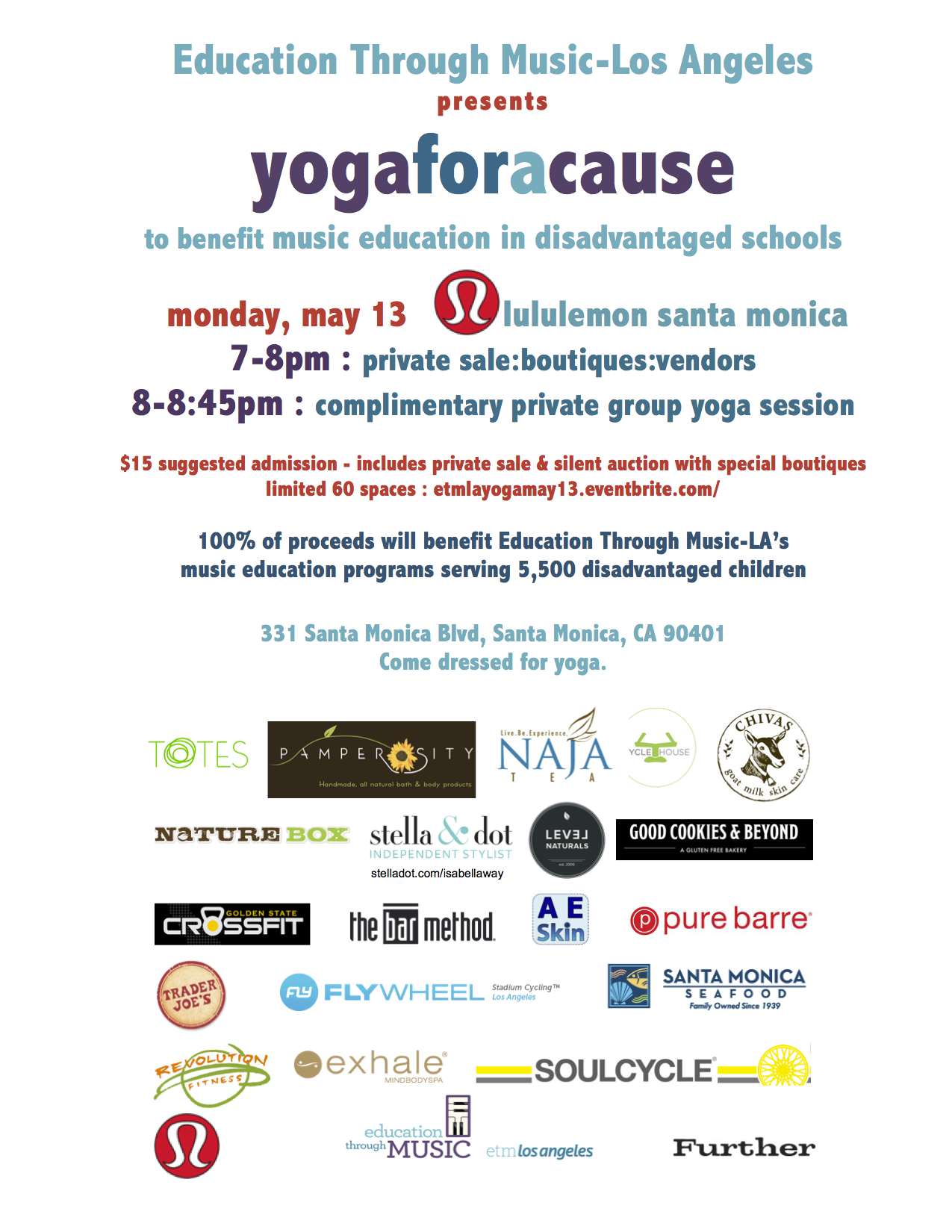 Possibility Project Presents: Stop Requested @ Broad Stage, Santa Monica – $50-100, All Ages
Stop Requested is an original musical drama written and performed by a diverse group of Los Angeles youth that are currently in, or have been in foster care. The stories in the show are based on the real-life experiences of the cast and their ideas for change about the most serious issues they face as young people. This production at The Broad Stage is in partnership with Santa Monica College Public Policy Institute's Spring Symposium on urban youth and foster care.

Crafting A Nation: One Craft Beer At A Time LA Premiere, Q&A, After-party at Angel City Brewery @ Downtown Independent, Downtown – $6, All Ages
This documentary follows several of the key players in the industry as well as many breweries that are only known within their communities. The characters that we follow in this film all display a common thread of creating a product that stands for something while maintaining true to their local roots. Crafting A Nation features breweries, small businesses, and individuals that are growing because of the rise in the American craft beer movement. The characters that have been selected for this film are all picked for their passion, and dedication. Our characters are striving to not only create unique and American-made but they are also committed to the improvement of the quality of life despite the odds faced by the economic downturn.


Marcela Carmona Birthday show @ Bar Lubitsch, West Hollywood – $8, 21+
Come on out for a night of great music! With local talents Ariel Lowell and Brent Michelle also performing sets of original music, you're in for a night of great music, guest appearances, and collaborations galore! Oh, and yes – It's Marcela's birthday. Celebrating 33 years on this planet with YOU!
http://youtu.be/hRFfTXyzuTw

Capoeira Brasil Los Angeles Beer and WineTasting Springtime Reunion @WildCraft Sourdough Pizza, Culver City – $25, All Ages
THIS IS A FAMILY FRIENDLY EVENT, SO FEEL FREE TO BRING YOUR KIDS!!! CBLA is having it's second tasting fundraiser and this time it's going to be a BEER and WINE tasting event!!! In the spirit of springtime we want to celebrate springing forward in to our future and celebrating our past. This party will be a reunion of sorts, bringing together both past and present CBLA peeps, their friends and family, and the entire LA Capoeira community to help raise money for our FREE COMMUNITY CAPOEIRA PROGRAM in Northeast LA, for the low-income youth of our Santa Rosa middle school program and for general improvements at CBLA-West (new bathrooms, new change rooms, etc). We will also give a portion of proceeds to the family of our Capoeira sister, Festa, in order to help with her long and complex recovery from serious illness. Tickets will be $25 per person and will include YOUR CHOICE OF BOTH BEER AND WINE TASTINGS, AS WELL AS LOTS OF AMAZING SNACKS LIKE PIZZAS AND GARLIC KNOTS!!!

Monthly:
Floor Improv @ King King, Hollywood – $12, 21+
THE FLOOR IMPROV NIGHT IS A ONE-OF-A-KIND NIGHT WHERE DANCERS AND MUSICIANS OF ALL KINDS COME TOGETHER FOR A LIVE, IMPROVISED JAM-SESSION, CREATING UNDENIABLE ENERGY AND UNFORGETTABLE EXPERIENCES! We have created this night to fill a void that we had been feeling for a long time. We live in a city that holds so much incredible talent, but because of how diverse and dispersed it is, we craved a central place where they can all come express themselves artistically…TOGETHER! So we've opened up THE FLOOR to you! Come play, dance and experience something that is organic and completely in the moment. No rules, no egos, just all of us creating a rollercoaster to ride with one another – a truly magical night that has to be experienced! Every 3rd Monday!
http://youtu.be/coXrnC1Izo0

Weekly Picks: Most venues have free live music and dancing on Mondays but these are my favorite.
School Night @ Bardot, Hollywood – 18+ $10, 21+ Free
Favorite place on Monday nights for live music is School Night hosted by KCRW DJ Chris Douridas.
MOM LA (Motown on Mondays) @ Short Stop, Echo Park – 21+, Free
Since December of 2011, Every Monday in LA has been different with a fresh new weekly dance party that showcases some of the most classic soul tunes, forgotten gems, remixes and related off-shoots/inspirations from the Motown catalog. Now 1 Year old, MOM LA has become an LA favorite, while receiving write-ups from LA Weekly, being listed in the "Top 10 Club Nights For People Who Don't Like Clubs", as well as getting write-ups and features from various websites & blogs including Fusicology! This once, best-kept secret, is now becoming the talk of the town!
http://motownonmondays.com/blog/?page_id=762
_____________________________________